Kids Bikes
CHOOSING A KIDS BIKE
You're likely reading this because you're most likely as confused about kids bike sizing as most parents we get through our stores. Understable, because kids bike sizing isn't simple! There are several factors to consider in choosing the right kids bike.
And yes, you can pop into one of the chain stores and pick one up for a fraction of the cost.
But: Buying from a bike store makes a huge difference.
We've seen kids start on chain store bikes and have their growth hindered. Once they're on a proper bike (that's light, fits them better and is easy to ride), they actually begin to love riding a lot more.
So, in this article we'll try and help you understand what to look for (keep scrolling all the way down).
THE FIT
The best way to shop for a new kids bike is with your child - in person. Would you buy a pair of shoes without trying them on first? Probably not unless you know exactly what you're buying - but most people don't.
The same with kids bikes.
Kids come in all shapes and sizes. Some have long legs, or long arms or short torsos.
And so do kids' bikes.
I'll give you a comparison between our 2 most popular kids bikes:
Both the Mongoose Mitygoose and Giant Animator come in 16-inch sizes, which we recommend for kids between 4-6 years old.
They are both 16" kids bikes, so you'd assume they are the same size. Right?
No.
They are very different sizes.
That's because the frame size is different between the brands - even though the wheels (in this case 16" diameter) are exactly the same.
This is where most parents get confused. The wheel size is the same. But the right fit isn't about wheels, it's about the frame.

THE 1ST BIKE - BALANCE OR PEDAL?
If you're after a black and white answer - a balance bike.
Most kids struggle with the actual pedalling motion. Then there's the steering part. Then the balancing part. So, as you can tell there's quite a few layers to riding a pedal bike.
With a balance bike, kids have to focus on the balance part - they don't get a choice. It forces them to find their balance point.
We use this technique with older kids too; take the pedals off and use the bike as a balance bike.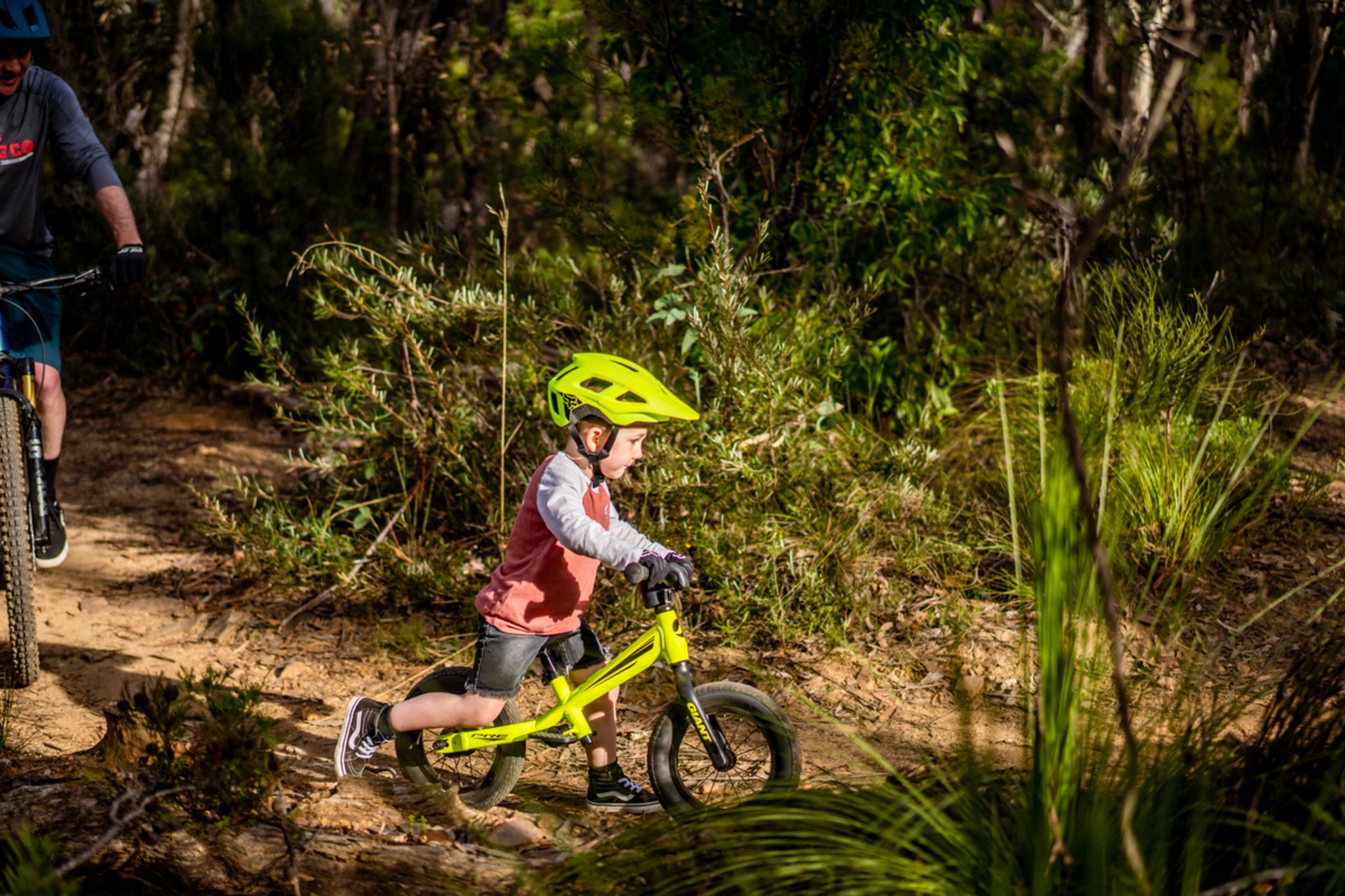 A couple of great options are:
There is a "but" though:
If your child has good coordination. And they've adapted to pedalling already from a trike or similar, then they'll be fine with a pedal bike. Just make sure they don't rely on the training wheels for too long.
THE FRAME & COMPONENTS
There are 2 types of frames - steel and aluminium alloy (or alloy for short).
Steel corrodes more easily than frames made from alloy. It's also heavier. Heavy = harder to ride. But it is cheaper.
Examples of this include the:
Malvern Star Radmax and the Royal Baby Macaron range.
Aluminium is the opposite. It's lighter and therefore easier for kids to manoeuvre around.
But the frame isn't the full story.
Some kids bikes will have an aluminium alloy frame but the rest of the parts might be made from steel.
That's one of the biggest reasons why certain kids' bikes cost more. They utilise more alloy components therefore making the bike lighter.
But what are "components"?
It's stuff like handlebars, seat posts, cranks, rims and hubs.

BITUMEN, GRAVEL OR MIXED?
Another consideration is where will your kid's new bike be used?
If it's smooth concrete and bitumen bike paths:
Ideally the bike will have narrower tyres and a rigid (no suspension) bike. Narrower tyres have less rolling resistance and a bike without suspension means it's going to respond faster.
Plus, having suspension on sealed bike paths is a bit of a waste.
Bikes like the:
Are going to be on the lighter end of our range and perfect for most inner city or sealed bike paths.
For kids riding on a lot of dirt or gravel the tyres need to be wider and more aggressive in the tread profile to deliver more grip. Suspension is also preferred.
So if this is the main terrain that your child rides on, then check out these options:
Keep in mind that the above options will still be fine for riding on bike paths, it's just that they are more capable than the rest of our kids bike range.
For mixed terrain, we're gonna assume it's going to be smooth dirt and gravel transitioning over to concrete.
The above options will still be fine, but if you're after a bike on the lighter side (without suspension) then these are the bikes that'll be worth considering: