Byk
18" Byk E350 - Green
$200 deposit
Total price: $369
Want to click and collect?
Available at Hoppers Crossing.
Click & Collect :
Click-and-collect available for instock items. Please allow up to 48 hrs to process your order.
Order by phone for same-day or next-day collection.
Call your local store to check availability in-store.
18" BYK E350 - GREEN
This bike redefines children's bikes for innovation and excellence.
From the smooth handling long wheelbase to the ultra-efficient tall wheels, safe braking with a footbrake and two calibrated alloy handbrakes, every single component has been carefully selected.
DESIGN
At the heart of every ByK bike is a well designed frame and lightweight frame - so your child will have a light and easy bike to ride. Small children have a narrow pelvis. We believe for a child to ride comfortably and in the correct position, the saddle should be padded and matching the size of their body - we have done just that with the E-350.
PERFORMANCE
With lightweight alloy wheels, we've made pedalling easier; professional bike riders insist on them so why shouldn't our kids too! And the smooth, faster-rolling tyres don't wear little legs out so quickly - as opposed to regular BMX kids bikes that have wide tyres with big knobs that most kids struggle to get going on. At just over 8kgs, the E-350 is approximately 30% more efficient than comparative kids bikes.
SAFETY
To make a children's bike safe, the rider needs to be able to brake efficiently and confidently. On the front we have used an alloy side pull calliper for developing immediate hand control, and at the rear a coaster brake for simple and safe foot braking.
We have used alloy front and rear callipers with light action for superior control and a simple and safe coaster style foot brake. The best of both worlds we believe. The custom-sized V-Brakes we have used are calibrated for age, ability and ergonomic fit. And they are made of non-flexing, strong and light alloy. Our light weight alloy rims ensure pedalling is easier. But more importantly alloy rims are a more efficient braking surface than cheaper, chrome-plated steel rims, and are therefore safer.
DETAILS COUNT:
Increased knee to handlebar clearance for growing bodies.
Alloy seat clamp.
Custom length cranks.
Pedals with bearings.
Smooth running tyres to reduce road friction and noise so your child can hear safety instructions.
Ergonomic riding triangle between pedals, seat and handlebar for best balance and efficiency.
Long wheelbase for more predictable handling at higher speeds.
| | |
| --- | --- |
| Weight | 7.8kg |
| Minimum Seat Height | 46cm |
| Maximum Seat Height | 59cm |
| Frame | Lightweight Alloy, Low Gravity Concept Design |
| Wheels | Dynamic Advantage Tall Alloy Wheels with Radial Front Spokes |
| Tyres | Low-Profile, Low-Resistance Design with Tough Tubes |
| Brakes | Rear Coaster Brake with Alloy Front Caliper and Rear V Brake |
| Brake Levers | Alloy, Adjustable Short Reach |
| Saddle | Comfort Mini |
| Handlebars | Custom Width V-bars |
| Safety Reflectors | Included |
| Bell | Included |
| Training Wheels | Included |
Due to Covid 19, the above bicycle specifications may vary without notice. We will strive to advertise specifications accurately.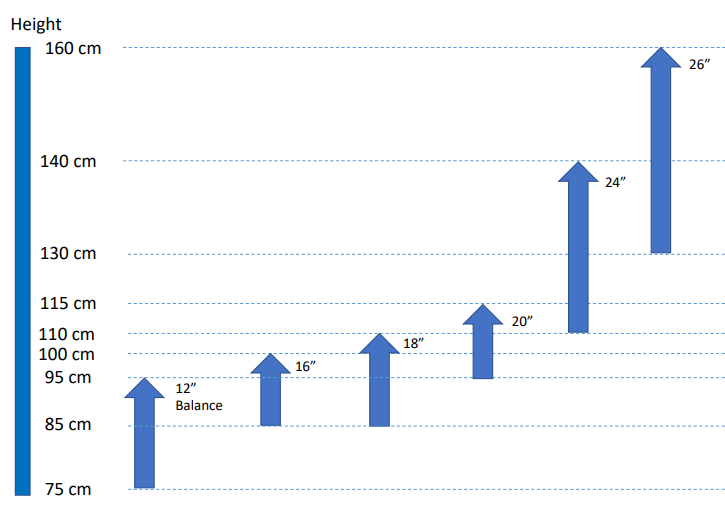 This guide is for reference only. For a better fit, please visit your local store and speak to our inhouse experts.