Globber
Globber Explorer - Green
$200 deposit
Total price: $299
Want to click and collect?
Available at Heidelberg.
Click & Collect :
Please note that due to a high volume of online orders, processing times can take up to 48 hours.
For same-day or next-day collection, please order by phone.
SHIPPING
Australia-wide shipping available starting from $10
GLOBBER EXPLORER 4 IN 1 TRIKE - GREEN
Toddler Tricycle and balance bike for kids aged 10m to 5 years old, with 4 built-in stages: Infant trike (for babies 10-36m), guided trike (for toddlers 18-36m), training trike (for toddlers 24-36m) and balance bike (for kids aged 2-5Y).
Globber's EXPLORER TRIKE 4in1 comes with a 100% tool-less design to easily transform the product into the different stages, as your child grows. The patented wheel mechanism allows parents to easily transform the two rear wheels into a double-width wheel, to become a balance bike for kids aged 2+.
2-height adjustable saddle with soft, anti-slip TPR and curved handlebars with TPR ergonomic grips for maximum comfort for your toddler in tricycle and balance bike mode. EXPLORER TRIKE 4in1 also comes with a 2-height adjustable parent handle (92cm, 96cm from the ground).
Safe kids tricycle comes with a 5-point harness with soft, comfortable shoulder pads and a safety bar, on an adjustable high-back seat with soft TPR, for extra comfort for your child. Detachable and adjustable anti-UV (UPF 50+) polyester canopy included for maximum protection while out and about with your little one.
Coming with a well-designed & convenient pedal storage, so you can easily store the pedals at the rear of the saddle to never lose them while switching from training trike to balance bike mode.
KEY FEATURES
Saddle height 1: 32cm (min)/35cm (max) from the ground (infant trike)
Saddle height 2: 31cm (min)/34cm (max) from the ground (guided trike, training trike and balance bike)
Weight: 4.48kg - 6.88kg depending on configuration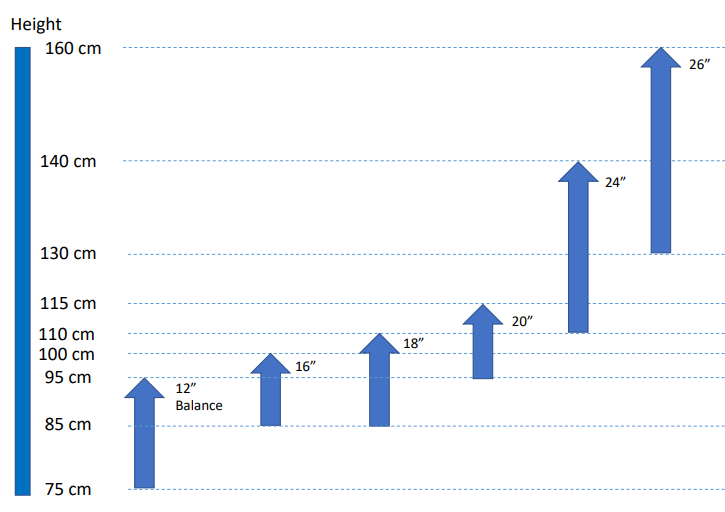 This guide is for reference only. For a better fit, please visit your local store and speak to our inhouse experts.