Italtrike
ItalTrike Super Lucy - Rose Garden Pink
Want to click and collect?
Available at Hoppers Crossing.
Click & Collect :
Please note that due to a high volume of online orders, processing times can take up to 48 hours.
For same-day or next-day collection, please order by phone.
ITALTRIKE SUPER LUCY - ROSE GARDEN PINK
The Super Lucy tricycle is the distinctive made in Italy tricycle with perfect, sinuous lines and a classic, unmistakable design.
It's perfect to help children learn to ride independently: coordinating legs and arms with pedalling and steering is not child's play! The Super Lucy tricycle is perfect for balance, global motor skills, pedal push and the circular movement of going forward, braking and reversing.
The made in Italy tricycle has a height-adjustable chrome-plated handlebar with a plastic basket, a painted steel frame, a height-adjustable ergonomic saddle (from 36 to 38 cm) made of sturdy coloured plastic, solid anti-puncture vintage brown wheels, pedals on the front wheel and a nice painted steel platform between the two rear wheels to carry your friend from one place to the other. Design and colours make this product unique and attractive!
KEY FEATURES
Large adjustable seat
Carry basket on handlebars
10 inch front wheel
Steel frame & fork
Suggested User Age : 2 - 5 years
Max. User Weight : 25kg
Saddle Height: 36cm
Height: 56cm (from ground)
Width: 52cm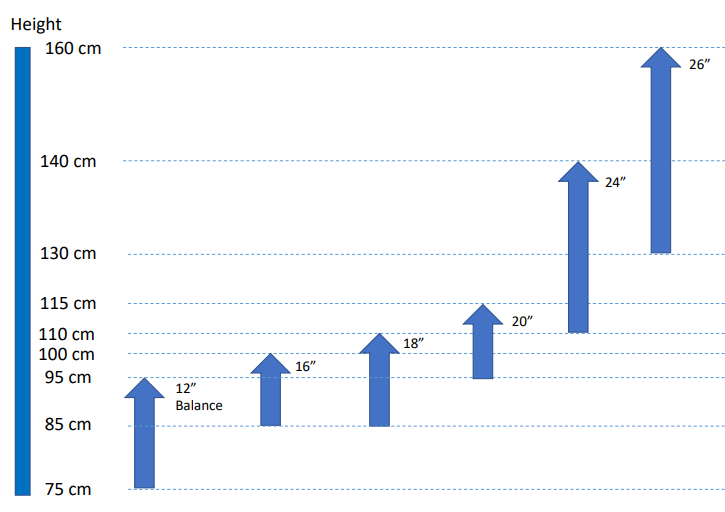 This guide is for reference only. For a better fit, please visit your local store and speak to our inhouse experts.