Eurotrike
Eurotrike Ultima Canopy Boys
Want to click and collect?
Available at Hoppers Crossing, Hallam, and Heidelberg.
Click & Collect :
Please note that due to a high volume of online orders, processing times can take up to 48 hours.
For same-day or next-day collection, please order by phone.
EUROTRIKE ULTIMA CANOPY BOYS
($199 in box, $219 assembled)
As the name indicates The Eurotrike Ultima is designed to be the ultimate in tricycles for kids.
I shall list the features next, but they are designed to maximise both the pleasure and the safety of a trike.
For younger children, the trike has a safety harness (seat belt) together with a safety flag and a tricky little gadget, a little footrest that folds down when they are tired and just want to sit back and be pushed home by Mum or Dad. Of course, the trike is fitted with a removable push bar, so that when the energy level drops below the enthusiasm level there is a means to easily push them along.
In the Ultima, the trike can be steered using the push bar, so it is dead easy to get them back home. For the slightly older kids, the trike has rubber wheels which give excellent grip whether on grass or paved surfaces. With rubber wheels, the trike is also very quiet and smooth to ride.
The seat is adjustable to cater for growth and is shaped to be comfortable with a high back for added support. The steel frame is long lasting, standing up to rough treatment, even when the big kids hop on it.
Apart from all the practical features, it simply looks great and is loads of fun. Really, for the years they last it is very inexpensive entertainment. We can post one out to you, or if you live near the shop, we can supply them fully assembled.
Take it home in a box $199, or we will assemble it for $20 extra.
KEY FEATURES
Safety belt
Footrest
Removable push-bar with steering capabilities
Rubber wheels
Steel frame construction
Adjustable seat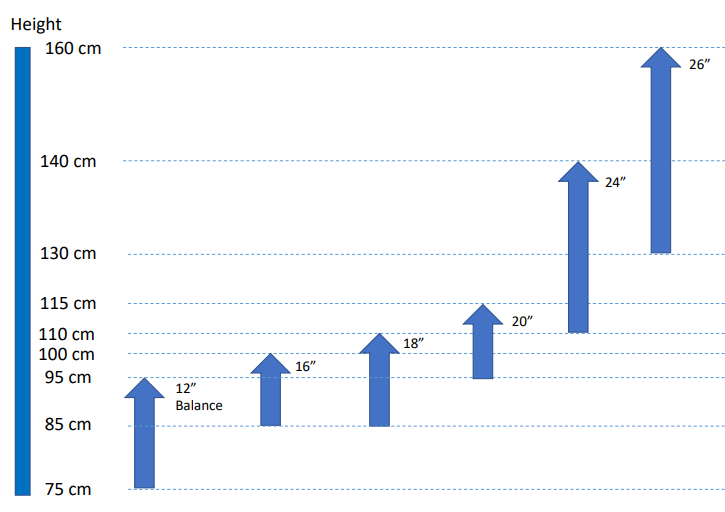 This guide is for reference only. For a better fit, please visit your local store and speak to our inhouse experts.