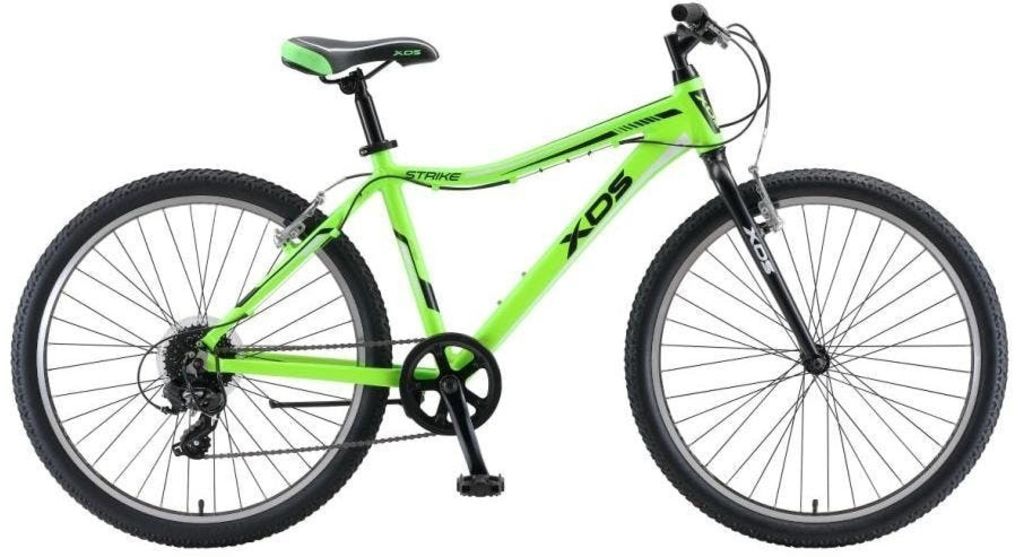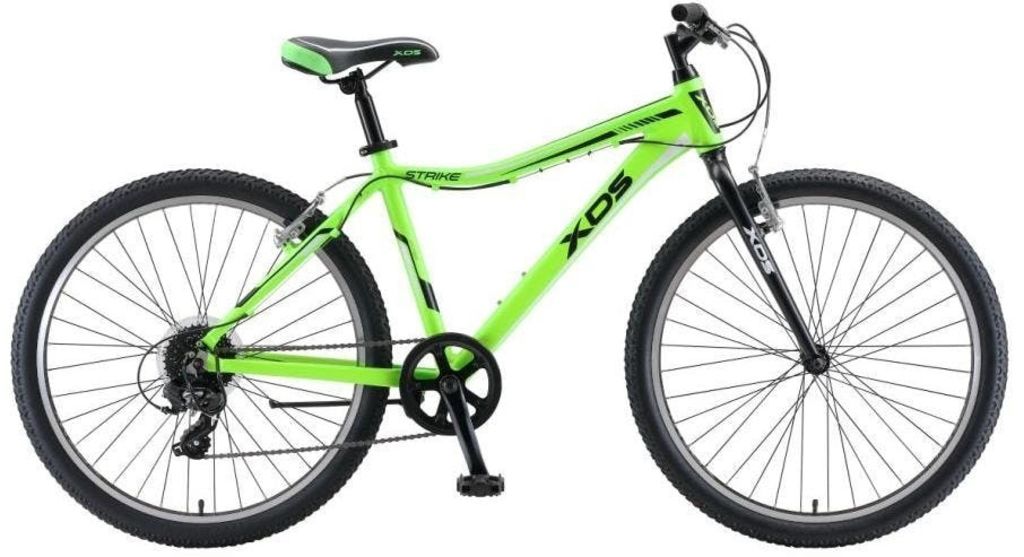 XD04M
XDS Strike 8 Speed 2019 - Green
Click and Collect available
Next day collection available for in-stock items.
3-10 business days processing time if transfer between stores required.
These days most bikes have suspension, at least 21 gears and are quite heavy. It's not always what a young girl would prefer, it's simply what the manufacturers think is desired.
Xds have gone against this trend, as have Byk and built some models with younger kids in mind. This bike has an extra light frame, a good quality gear system with strong, light wheels. The emphasis is clearly on simplicity and ease of riding. And it works. This bike simply rolls along easily, and it is light to lift, simple to manoeuvre and very easy to pedal up hills or along the bike paths. It is so light and easy that kids love it. We sell heaps of these.
Kids frames are usually made from cheaper aluminium, which is fine, it is more than adequate for anything most kids will do. But it can be a little heavy as it has to be thicker. These Xds frames are made of higher quality aluminium, with beautifully shaped tubing, which makes a lighter frame that is just as strong.
The handlebars have lots of adjustment so that you can raise them as your child grows, or, for less confident kids the handlebars can be kept relatively high so that they can sit upright. The gear lever has a very light action, to make it easy for hands that are not quite as strong, and clicks pecisely into place to simplify gear changing.
The brakes are designed for small hands, and almost any kid can pull up very rapidly if required. The levers can be adjusted to cater for short fingers when required.
The tyres have less rolling resistance than those generally fitted to kids bikes, just to help them roll easier. These tyres are designed to handle gravel, and off-road paths, yet roll easily on paved areas, it just makes it a little easier for the kids to keep up with stronger riders.
Paintwork is simple, just a high quality baked enamel, in a great colour range, that appeals to kids (hopefully) yet is durable, for those times our kids forget to put their bikes away. Not that our kids would do that!v
SPECIFICATIONS
FRAME   XDS Alloy X626" x 17" HT 50×44×125mm RC 435mm
FORK   XDS Alloy 26 28.6×24.6×203mm A-head
HANDLEBAR   XSD Alloy W 640mm H 25mm 5°
GRIPS   Rubber L 110mm
STEM   XDS Alloy 28.6mm E:70mm H:40mm 7°
SEATPOST   XDS Alloy 31.6×350mm blk alloy clip
SEAT CLAMP   Alloy 35mm w/ QR
SADDLE   MTB
PEDALS   Nylon 9/16 w/ball
GEAR SHIFTERS   Shimano , SL-M315-8R, RIGHT, 8-SPEED RAPIDFIRE PLUS W/ OPTICAL GEAR DISPLAY
REAR DERAILLEUR   Shimano Tourney TX 7/8-SPEED DIRECT ATTACHMENT TYPE 11-34T
FRONT BRAKES   Alloy V-brake L=102mm
REAR BRAKES   Alloy V-brake L=102mm
BRAKE LEVERS   Alloy L/R
FREEWHEEL   11-32T 8-SP Cassette Index
CHAINWHEEL & CRANKS   Alloy / steel 3/32""×40T×170mm
CHAIN   KMC 1/2" x 3/32" x 110L
BOTTOM BRACKET   BC1.37" x 24T L=116mm
HEADSET   28.6×44×30mm H=22.3mm
FRONT HUB   Solon Alloy 14G×32H M9×100×108mm w/ QR-02
REAR HUB   Solon Alloy 14G×32H 3/8?×135×180mm L=R 8/9/10-SP cassette
SPOKES   SS 14G×259mm/14G×257mm/14G×260mm
TYRE   Kenda 26" x 1.75" 60TPI
TUBE   26" x 1.75" A/V
RIM   XDS Alloy 26"x20x14Gx32H A/V H=16.3mm
BELL   22.2
KICKSTAND   H 250mm (+2/-0) 100°