Italtrike
ItalTrike Passenger - Blue/Red/Yellow
$200 deposit
Total price: $219
Want to click and collect?
Available at Heidelberg.
Click & Collect :
Please note that due to a high volume of online orders, processing times can take up to 48 hours.
For same-day or next-day collection, please order by phone.
ITALTRIKE PASSENGER TRIKE - COLORAMA (BLUE/RED/YELLOW)
he Passenger tricycle is the trike with helpful parent control with a classic line and retro colours. A trike for any trip, fully equipped and perfect for helping with balance, and then pedalling.
This trike has a rear push parent handle, and is perfect for training stability on three wheels, while an adult pushes the trike with the front "freewheel". The Italtrike Passenger Tricycle is also great for coordinating the legs' circular movement together with the arms.
It has a sturdy steel frame, chrome-plated handlebars, great colours and ergonomic seat that can be adjusted in 3 positions.
Wheels are anti-puncture, and very solid; also, the front wheel is equipped with a "freewheel" system so children to rest their feet on the pedals when being pushed and avoid spinning and bumping their legs. Once children are independent, this frot wheel can be locked and becomes a classic trike wheel, allowing kids to pedal forwards, brake and pedal back.
It also features a helpful rear storage compartment to carry all the little things kids find necessary for new adventures, and a handbrake kids can use on the on the right side.
KEY FEATURES
Rear Bucket Storage
Removeable Push Bar for when kids progress
Rear Handbrake, easy reach and fun for kids
Large Adjustable Seat
10" Front Wheel
Suggested Ages : 2-5 years
Max. User Weight suggested : 25 kg
Saddle Height: 33cm
Height: 56cm (from ground)
Width: 45cm
Due to Covid 19, the above bicycle specifications may vary without notice. We will strive to advertise specifications accurately.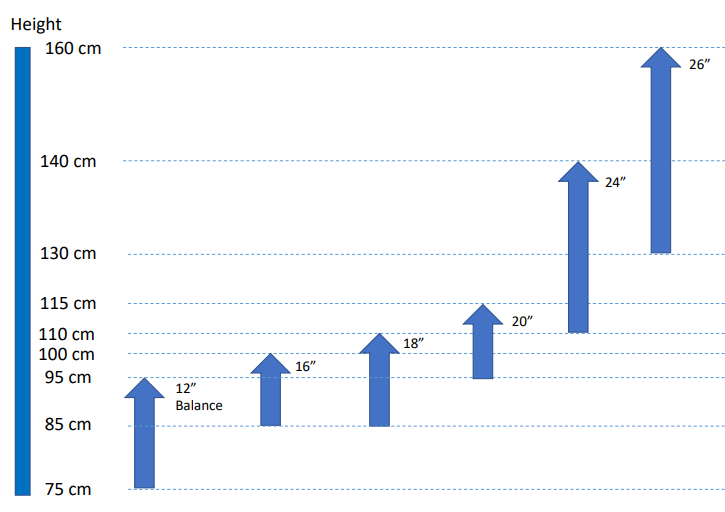 This guide is for reference only. For a better fit, please visit your local store and speak to our inhouse experts.