Please choose the option you would like and add it to your cart
Product Details
SHOGUN EB3 - ELECTRIC BLUE
Shogun designed the EB3 for recreational riders who are chasing a fitter version of themselves and commuters who want the ride into work to be a little more forgiving.
In a world where a new electric bike can cost many thousands of dollars, the EB3 sits at the economical end of the scale.
Yes, you can get cheaper but build quality, battery and power reliability and the quality of mechanical components becomes (very) questionable.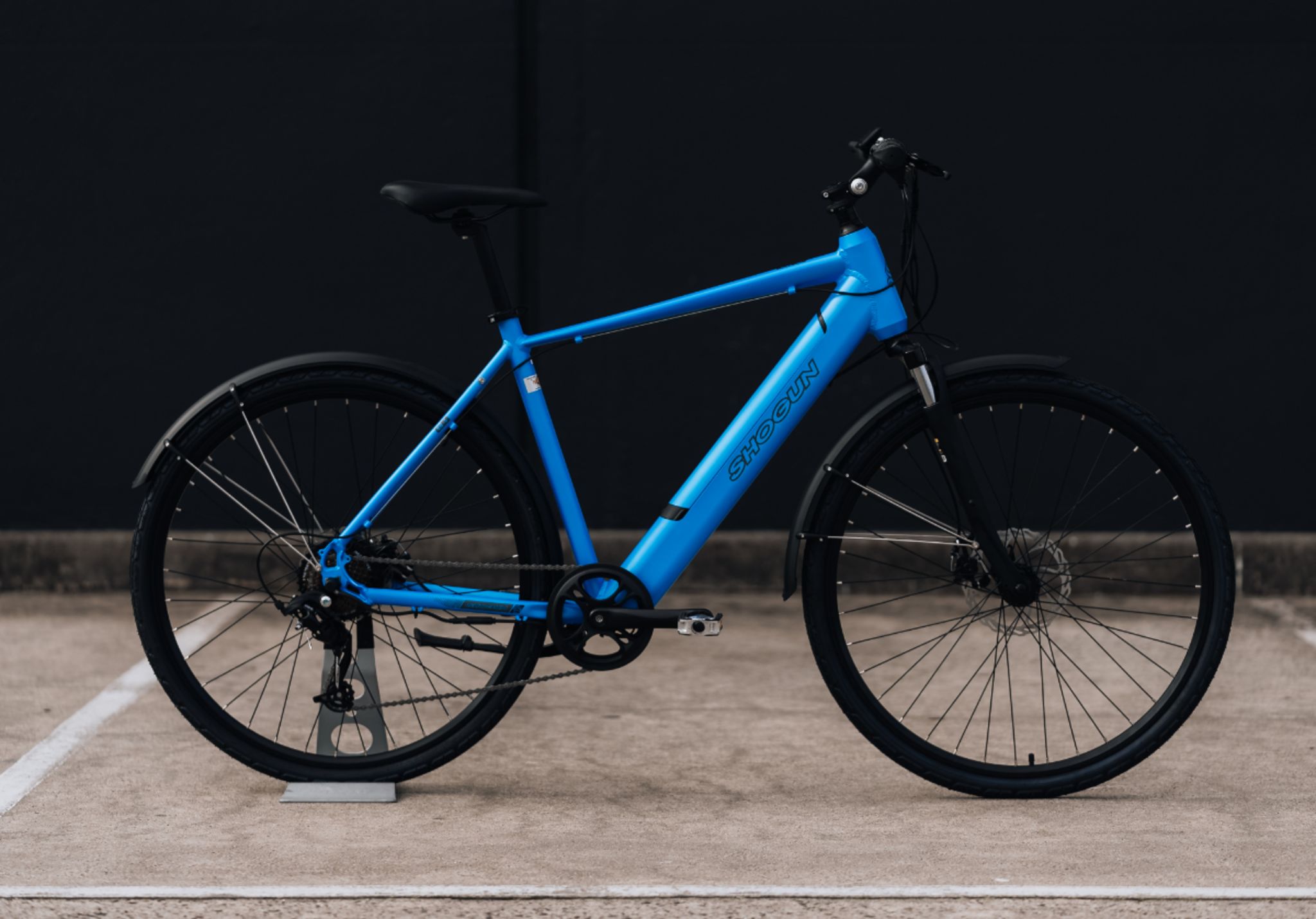 In this preview, we'll go through some key things you should know about the new EB3 before making the investment.
WHO IS SHOGUN?
The Shogun brand has existed since 1984. They are designed in Melbourne too.
The guys that design these bikes don't compromise on quality because they don't want the headaches that come by cutting corners.
And as one of Australia's largest retailers neither do we.
Because as the market for e-bikes continues to grow, there will be companies that emerge who are out there to make a fast dollar and who will cut corners.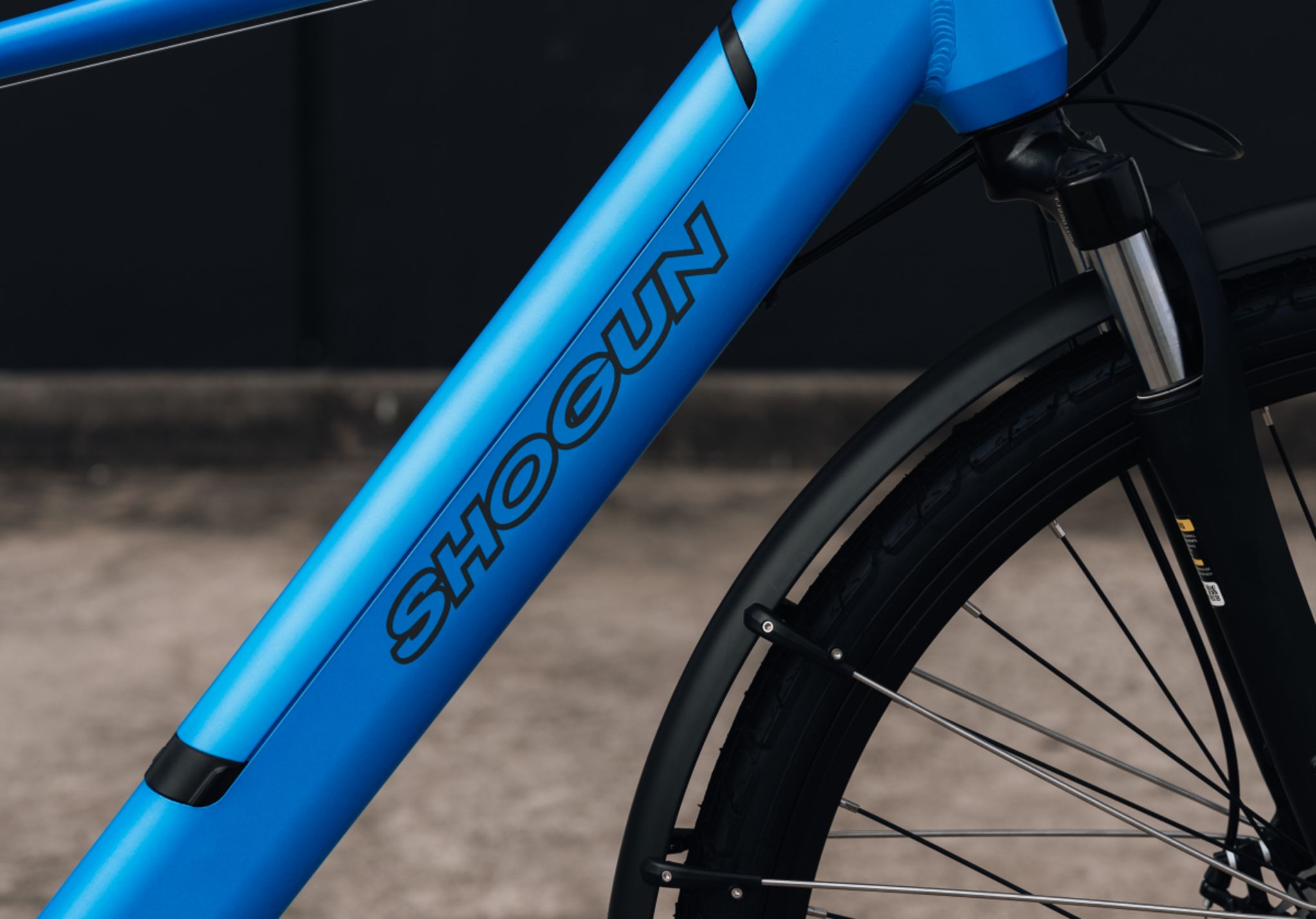 WHAT IS THE EB3?
Shogun's new EB3 is an entry-level electric bike that's designed for recreational riders and commuters.
It's intended for bike paths, rail trails, inner city or suburbia. It can handle both smooth dirt and gravel, plus concrete paths.
In short: it's an electrified hybrid bike. Hybrid as in, it's a cross between a road and mountain bike - a jack of all trades.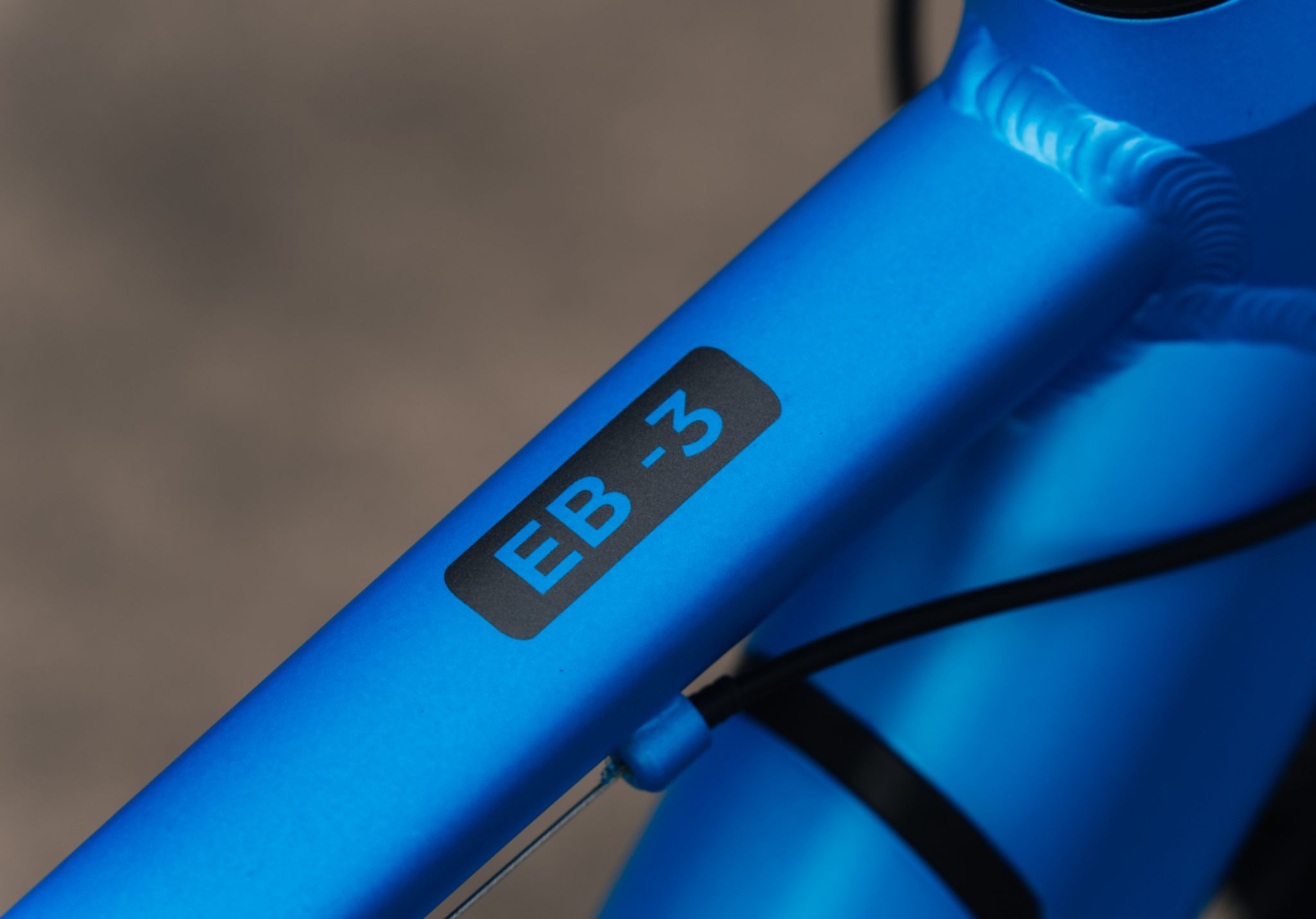 IT'S REAR HUB DRIVE
The EB3 uses a rear hub drive to deliver power. In this case that drive is the Bafang SWX02.
Bafang has been producing and designing complete e-bike systems since 2003 and is one of the leading manufacturers.
So a little about the drive:
There's no throttle, so riders must be pedalling for the motor to start delivering assistance and power. As per Australian Standards, the cut-off speed is 25km/h.
The SWX02 has a 45Nm of torque.
It's ideal for riders who are travelling on gently undulating bike paths and won't see a lot of aggressive and steep climbing along their route.
For heavier riders (90kg and over) or those who are regularly riding up steep ascents, please consider a mid-drive electric bike. Some options are: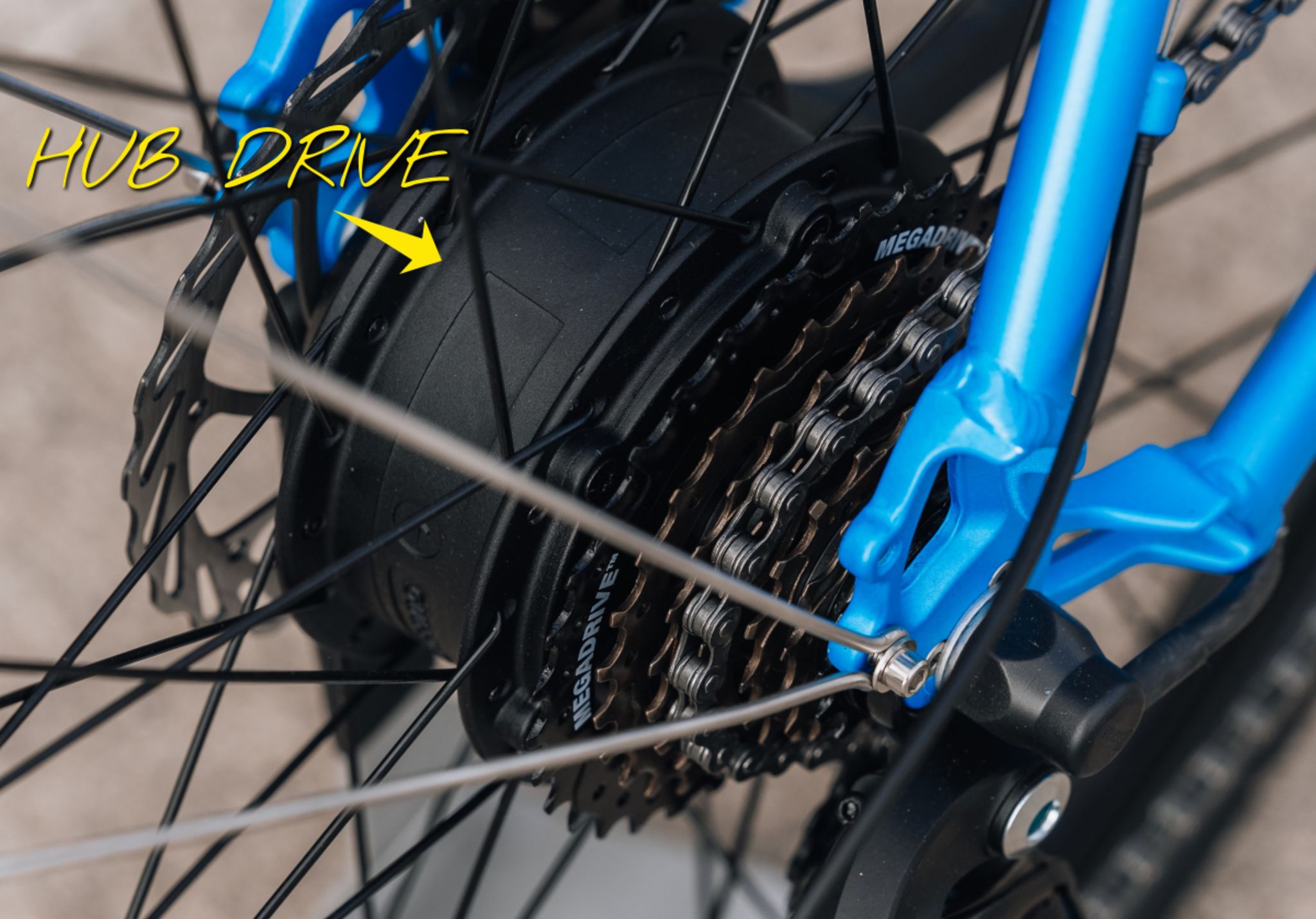 BATTERY AND ELECTRONICS
Shogun has used a cleaner integrated battery which looks like it is part of the frame.
The battery uses Samsung cells and it's sized at 374 Watt-hours (Wh).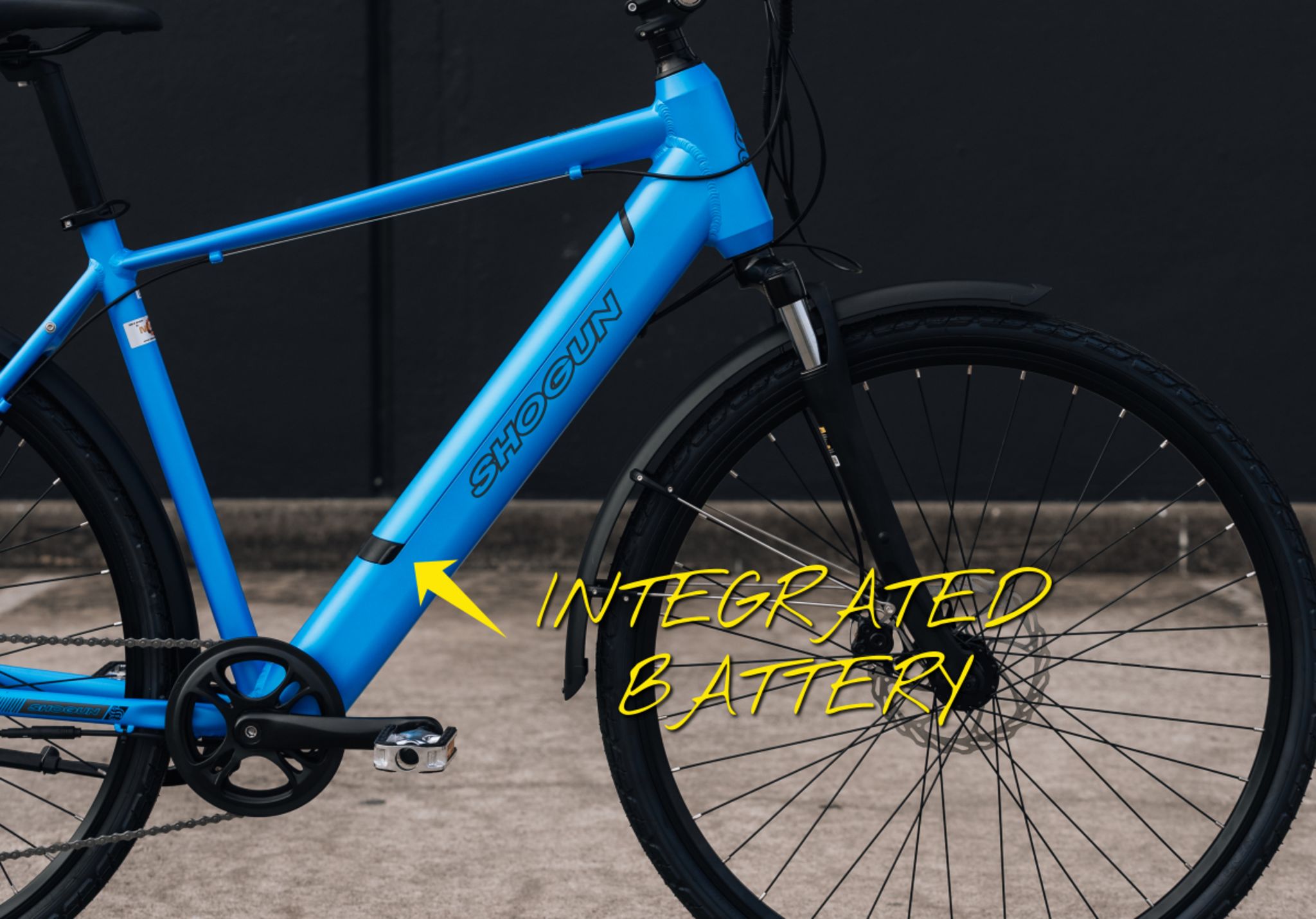 And it can either be charged on the bike or removed and charged off the bike.
The EB3 also comes with 2 spare keys; the only purpose of this key is to remove the battery for charging. Note the key hole just below the charge port (in the image below).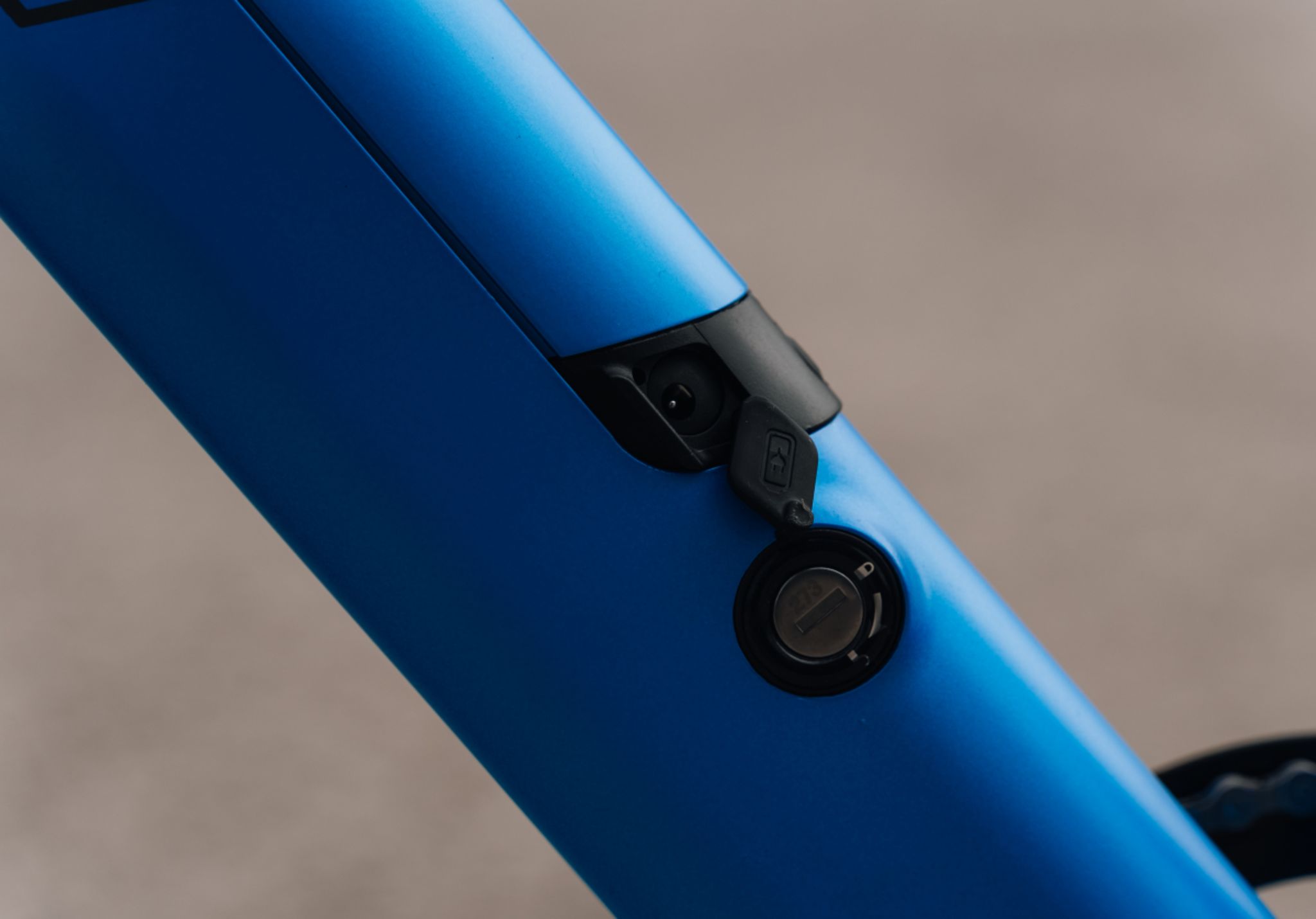 An LCD screen on the handlebar displays speed, battery level, distance and assistance level.


THE MECHANICAL STUFF
In this section we'll cover the normal bike stuff.
There's 7 gears on the back to control your pedalling speed.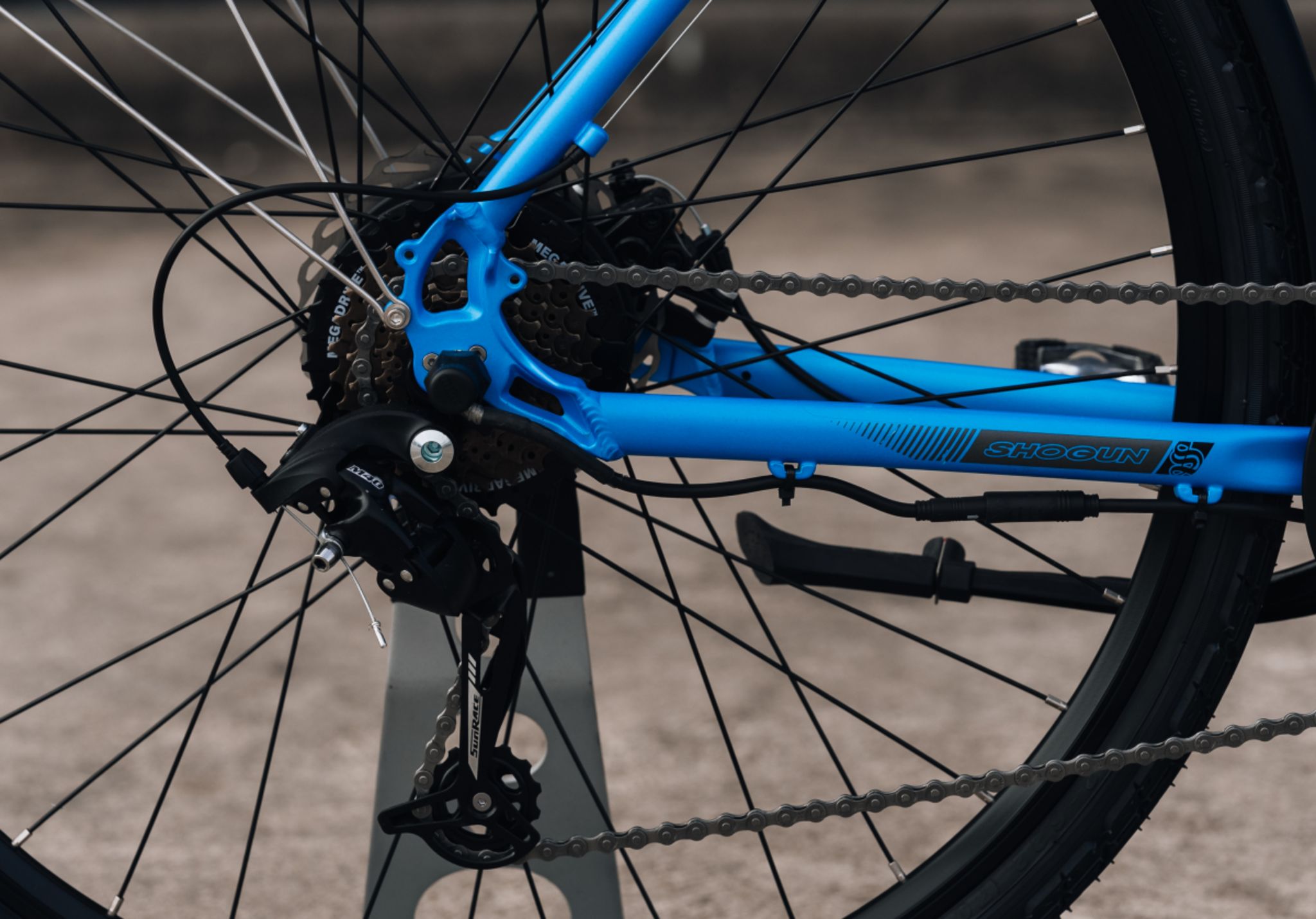 And there's a single front gear. This keeps the drive system clean and simple because there's no front derailleur, shifter or cable - less moving parts.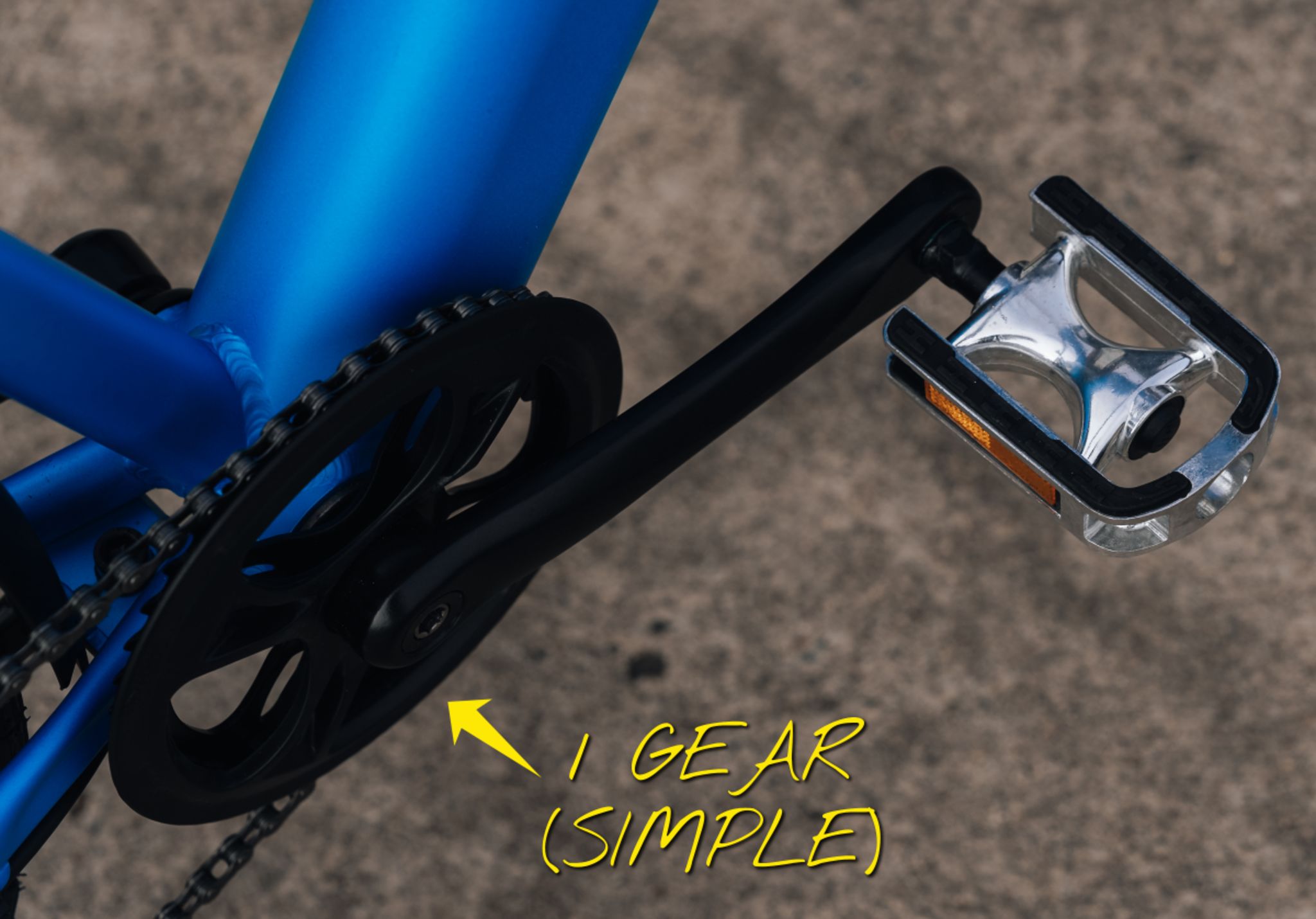 A simple grip-shifter is used to change through the gears.
Next, the EB3 uses mechanical disc brakes to slow its rider down.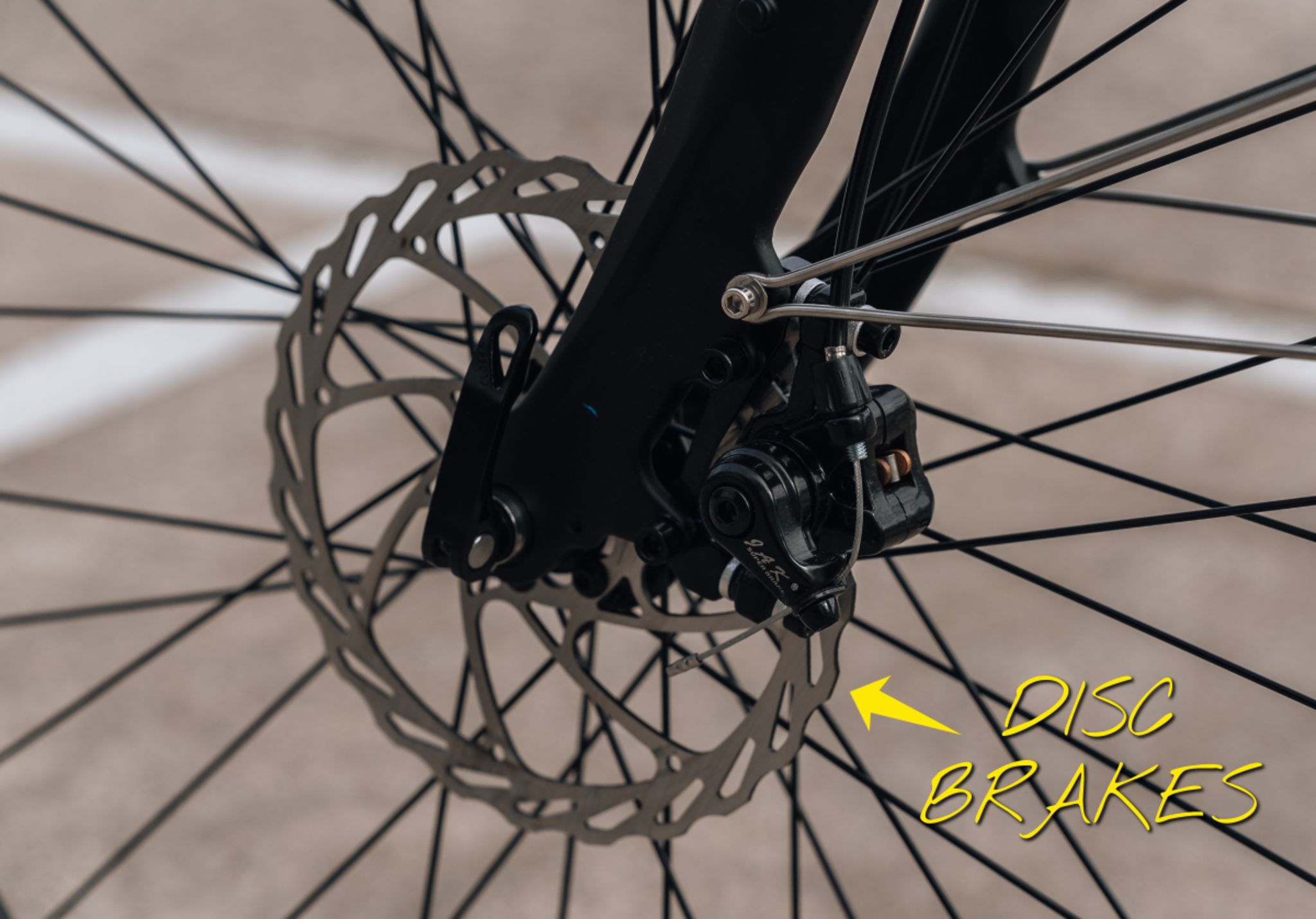 These are an improvement over calliper brakes because they have better dry and wet weather stopping power. Plus, it's a lot easier to transport the bike and remove the wheel.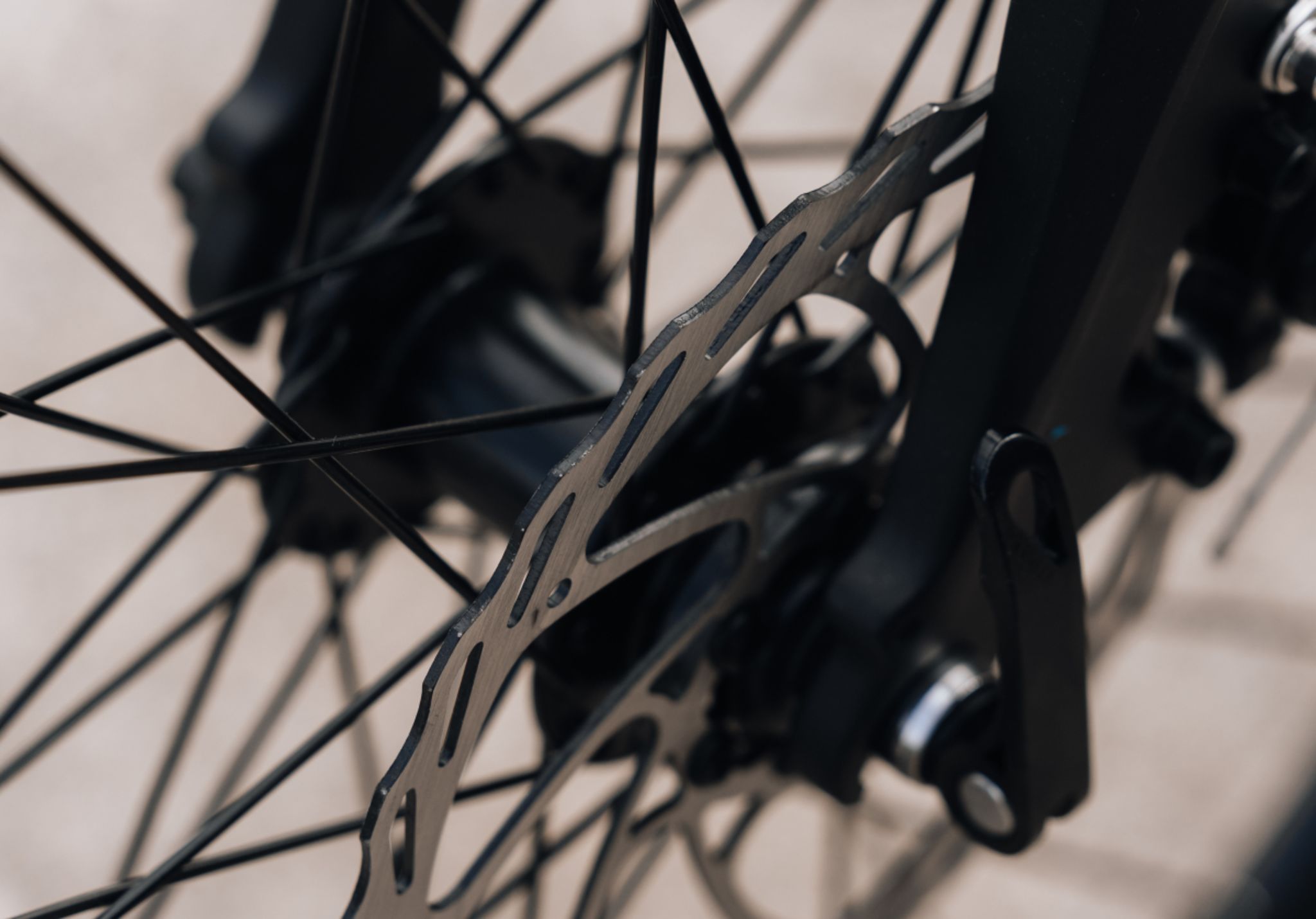 Note:
After you purchase the EB3, please bed the brakes in. They will not be at full-power out of the store. To help you do this, here's a how to guide:
Specifications
| | |
| --- | --- |
| Charge Time | Full charge in approximately 5 - 6 hours |
| Battery Life | Up to 600 charge cycles with minimal loss of capacity |
| Display | Handlebar mounted LCD display showing speed, distance, battery level, assistance level |
| Warranty | 1 years on electric components |
| Frame | Alloy step thru frame with fully integrated detachable battery design |
| Fork | Zoom alloy front suspension |
| Rims | Double wall alloy |
| Front Hub | Alloy quick release |
| Rear Hub | Bafang SWX02, 250W, 36V |
| Spokes | Stainless steel |
| Tyres | 700C x 38C hybrid tyre |
| Pedals | Alloy body with rubber grips and integrated reflectors |
| Chainset | Prowheel alloy chainset with 38T steel chainring and plastic chainguard |
| Bottom bracket | Sealed bearing bottom bracket |
| Chain | KMC Z7 |
| Freewheel - Cassette | Shimano 7 speed freewheel |
| Rear Derailleur | Shimano TY300 |
| Shifters | Shimano RS35 7 speed, RH only |
| Brakes | Mechanical disc brakes with 160mm rotor |
| Brake Levers | Alloy levers |
| Saddle | Comfort saddle |
| Motor - Drive unit | Bafang 250W rear hub drive |
| Battery | Integrated 10.4Ah downtube battery with Samsung cells, 36V |
| Charger | A/S standard wall charger included |
| Extras | Centre mount kickstand and mudguards |